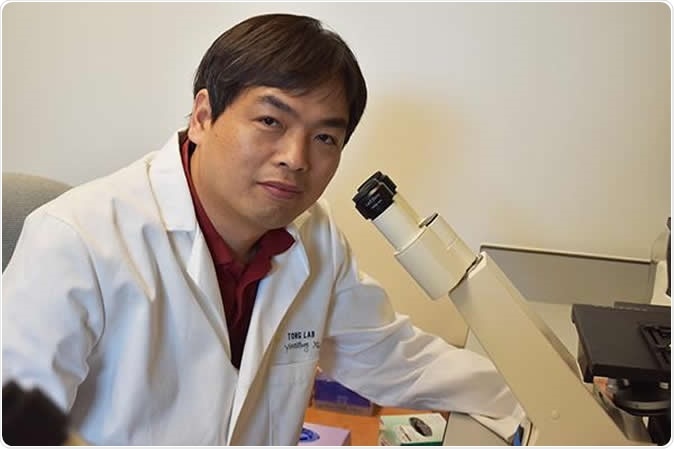 UTHealth's Yuanzhong Xu, PhD, is studying the parts of the brain that affect hunger. Image Credit: Rob Cahill/UTHealth
Many human beings can't swallow a thing when faced with significant stress, among other strong emotional states. However, scientists don't know much about how the brain brings about these emotion-related effects on eating behavior.
Pioneering research from the University of Texas Health Science Center at Houston (UTHealth) uncovers a novel brain pathway in mice which can be stimulated to increase the stress levels in these mice, while reducing their drive to eat.
This study, for the first time, looked at a neural circuit that connects two brain regions in the mouse, the paraventricular hypothalamus (PVH) and the ventral lateral septum (LSv). The first of these is connected to feeding, but the second is related to emotional regulation. The particular brain circuit examined in the current study functions to switch the pathway on and off. Activation of this circuit shows a measurable and dose-dependent effect on eating in relation to emotional stress.
The PVH is a central point for coordinating many survival-related adaptive behaviors and body functions, including eating. Both PVH and LSv neurons were proved to be sensitive to environmental stimuli expressing danger. They were relatively inactive during feeding activity, on the other hand.
Researcher Qingchun Tong says, "We have identified a part of the brain in a mouse model that controls the impact of emotions on eating."
This is important, say the scientists, because it could offer a way to treat the potentially deadly disorder called anorexia nervosa. This eating disorder kills more people than any other mental illness, says the National Institute of Mental Health. The diagnostic features of anorexia nervosa are the ingestion of severely restricted amounts or types of food with a distorted body image. For instance, a classic finding in anorexia nervosa is the feeling that one is fat, even when the individual is persistently and even dangerously below the minimum weight for health.
The relevance of this finding lies in the close similarity between the nervous system in mice and human beings. Older studies have already shown that stress has a powerful effect on both increasing and decreasing the drive to eat. However, research to identify how this interaction occurs, and to find the brain pathways that regulate feeding via stress responses, has so far drawn a blank.
During the present research experiment, the scientists used optogenetic techniques to activate and inhibit the circuit. They found that on activation of the circuit, glutamate was released by the neurons, with a corresponding increase in anxiety levels while appetite, conversely, went down, in a dose-dependent manner. With weak light stimulation, the mice began to groom themselves, a classic stress response. Strong light stimulation produced escape jumping behavior which is known to be related to fear.
When it was inhibited, the reverse effects occurred. Anxiety signs were visibly lowered, while feeding behavior increased. In short, electrical activity between the PVH and the LSv modulates emotional states and thus alters feeding behavior. Moreover, the negative effect on emotions produced by this pathway caused competitive inhibition of feeding in the presence of hunger.
This is a new discovery which shows how eating disorders can be related to underlying mental changes. This agrees with previous findings that an animal's sense of environmental security or of environmental stress competes with its feeding behavior. In other words, animals eat more when they are not stressed by a sense of danger.
This is perhaps reflected in chronic eating disorders occurring in human beings in relation to stress and anxiety causing abnormal emotional states, as well as in the overeating that often occurs with a strongly impulsive temperamental trait and because of the comfort offered by the food. This has led researchers to consider the strong possibility of a common brain circuit that underlies the regulation of both feeding and emotional states.
It is already known that areas like the amygdala, which controls emotions, is also crucial in regulating emotion. Similarly, the transmission of one type of neurons in the hypothalamus produces more eating while another type inhibits eating.
These findings will need more testing before they can be confirmed, says lead author Yuanzhong Xu. However, this study shows the importance of this circuit in gating emotional stress-related stimuli which affect feeding behavior.
The study was published in the journal
Nature Communications
on August 1, 2019.
Journal reference:
Identification of a neurocircuit underlying regulation of feeding by stress-related emotional responses, Yuanzhong Xu, Yungang Lu, Ryan M. Cassidy, Leandra R. Mangieri, Canjun Zhu, Xugen Huang, Zhiying Jiang, Nicholas J. Justice, Yong Xu, Benjamin R. Arenkiel & Qingchun Tong, Nature Communicationsvolume 10, Article number: 3446 (2019).