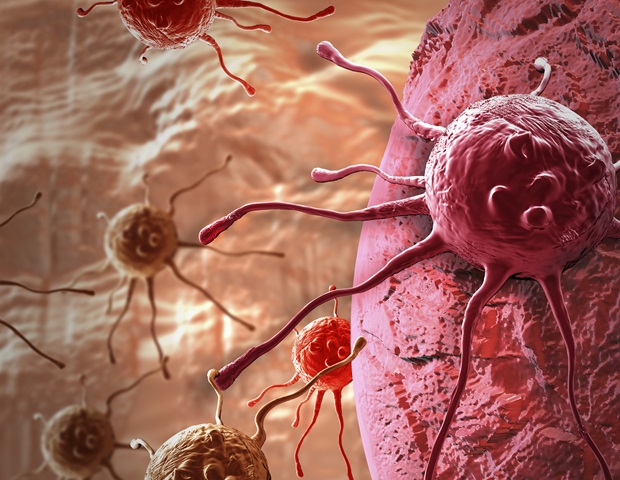 Roswell Park Comprehensive Cancer Center researchers have received more than a dozen recent grant awards totaling more than $15.4 million. These competitive awards from both government agencies and private funders will fuel research to overcome obstacles in treating diseases like prostate, breast, colon and lung cancer, as well as less-common cancers like multiple myeloma and esophageal cancer. They include the first National Institutes of Health funding to study a new electronic tobacco device, plus new state funds from Empire State Development supporting Roswell Park's role in the National Cancer Institute's Cancer MoonshotSM initiative.
The announcement today of more than $15 million in grants and awards to Roswell Park, including from the National Cancer Institute and National Institutes of Health, will help the cancer center continue the effort to make critical advancements in our understanding of the disease and develop new treatments to alleviate suffering and improve life quality."

Brian Higgins, Congressman
"Roswell Park is at the forefront of cutting-edge medical research and, with New York State support for its role in the Cancer Moonshot effort, will fuel faster development and broader access to life-saving treatments that will prolong and save lives," says Howard Zemsky, Empire State Development President, CEO and Commissioner.
Among the grantees are five teams who won funding of more than $2 million each:
David Goodrich, PhD, Professor of Oncology in the Department of Pharmacology & Therapeutics, received a five-year, $2.93 million prestigious "R01" grant from the National Cancer Institute (NCI) for his investigation into prostate cancer recurrence. "While prostate cancer is effectively treated with anti-androgen therapy, the disease relapses in many patients," explains Dr. Goodrich. "This research seeks to understand the molecular mechanisms that drive prostate cancer relapse so we can develop new therapeutic approaches to prevent disease relapse and extend life."
Ellis Levine, MD, Professor of Oncology and Chief of Breast Medicine, along with co-principal investigators Marc Ernstoff, MD, Shashikant Lele, MD, and Anurag Singh, MD, received a six-year, $2.76 million grant from the NCI for Roswell Park's role as a lead participating site for the NCI's clinical-trial cooperative groups. These groups, a collection of universities, academic centers and community practices throughout the country, conduct clinical trials across a number of sites to advance understanding and improve cure rates of various malignancies. With the large number of participating sites, these cooperative group trials can be completed quickly and answers forthcoming much faster than would be possible from an individual center.
Alan Hutson, PhD, MA, Professor of Oncology and Chair of the Department of Biostatistics and Bioinformatics, and colleagues Kunle Odunsi, MD, PhD, Martin Morgan, PhD, and Song Liu, PhD, have received a five-year, $2.21 million NYSTAR matching grant from Empire State Development's Division of Science, Technology and Innovation to bolster Roswell Park's work on behalf of the NCI's Cancer Moonshot. In 2018, Roswell Park was awarded funds to establish a Data Management and Resource-Sharing Center coordinating and supporting the work of 13 sites around the country that are working to develop immunotherapies as part of the Cancer Moonshot. The new funds from NYSTAR's Matching Grants Leverage Program specifically enable development of new technology and job creation supporting the Data Management and Resource-Sharing Center. Tina Amyes, PhD, serves as the center coordinator, a new job created by this funding.
Dean Tang, PhD, Chair of Pharmacology and Therapeutics, received a five-year, $2.18 million R01 award from the NCI for his work to develop better therapies for prostate cancer. While prostate tumors harbor several different cancer cell types, current treatments mainly target one cell population, those that express androgen receptor. Dr. Tang's project will test several new therapeutic strategies for targeting both prostate cancer cells that express androgen receptor and those that do not express this protein.
Martin Morgan, PhD,Professor of Oncology and Director of the R/Bioconductor Project, received a $2 million grant from the Chan Zuckerberg Initiative (CZI) to support Human Cell Atlas (HCA) Seed Network projects. Dr. Morgan leads a team of eight researchers from the U.S. and across the globe who will spend the next three years retrieving data from the HCA, which aims to create cellular and molecular maps of the human body. The goal is to provide a resource for understanding health and diagnosing, monitoring and treating disease.
Other Roswell Park researchers awarded significant recent grants from government agencies or private organizations:
Kelvin Lee, MD, Jacobs Family Chair in Immunology and Senior Vice President of Basic Science, received a five-year, $1.86 million renewal award from the NCI to continue work on a project that looks at the role of CD-28 receptors in the proliferation of multiple myeloma cells.
Yasmin Thanavala, PhD, Professor of Oncology in the Department of Immunology, and Maciej Goniewicz, PhD, PharmD, Associate Professor of Oncology in the Department of Health Behavior, have received a three-year, $1.53 million R01 grant from the National Heart, Lung and Blood Institute to study the health impacts of a new type of smokeless tobacco product, known as IQOS or "heat-not-burn" (HnB) devices. Rather than burning the tobacco and inhaling the smoke as with conventional smoking, these pen-like devices heat the tobacco to produce a vapor that's inhaled. "Independent research is critical to support the claim that heat-not-burn devices are safer than conventional smoking," notes Dr. Thanavala. "This project aims to determine how chronic use of HnB aerosol affects pulmonary inflammation, lung damage and immune suppression compared to conventional and electronic cigarettes."
Gokul Das, PhD, Associate Professor of Oncology in the Department of Pharmacology and Therapeutics, received a three-year, $882,200 U.S. Department of Defense (DOD) Breakthrough Award, signifying that his research has potential for major impact and accelerated progress in fighting breast cancer. His project will analyze how the estrogen receptor beta-p53 signaling axis impacts tumor growth, progression and therapeutic response of triple-negative breast cancer (TNBC), a particularly aggressive type of the disease. "This grant will also fund follow-up of our discovery that tamoxifen, a drug frequently used to treat ER-alpha-positive breast cancer, could be repurposed as an effective therapy for a large number of TNBC patients with ER-beta and p53 presence in their tumors," says Dr. Das.
Fumito Ito, MD, PhD, Associate Professor of Oncology in the Department of Surgical Oncology and Center for Immunotherapy, received a two-year, $687,200 grant award from the DOD for work to determine whether a chemokine receptor on patients' lymphocytes and found in the blood can be a reliable biomarker to predict and monitor how patients with lung cancer will respond to treatment with immune checkpoint inhibitors.
Gal Shafirstein, DSc, MSc, Professor of Oncology, Director of Photodynamic Therapy Clinical Research and member of the Department of Cell Stress Biology, received a three-year, $528,300 subcontract award from the Research Foundation of the State University of New York at Buffalo, part of a larger grant from the National Institute of Biomedical Imaging and Bioengineering for research on a combining chemotherapy and photodynamic therapy.
Two Department of Medicine faculty members, Sarbajit Mukherjee, MD, MS, Assistant Professor of Oncology, and Patrick Boland, MD, Assistant Professor of Oncology, received two-year awards for $497,000 and $467,500, respectively, from the National Comprehensive Cancer Network (NCCN). Dr. Mukherjee will study whether induction chemotherapy with TAS-102 (trifluridine and tipiracil) plus oxaliplatin ahead of other treatments can improve outcomes for patients with esophageal and gastroesophageal junction adenocarcinoma. Dr. Boland got funds for a clinical trial that assessing whether TAS-102, an approved colorectal cancer drug used as late-line therapy, will work better when used earlier in a combination and in place of the standard therapy fluorouracil (5FU). The awards are provided by the NCCN's Oncology Research Group in collaboration with Taiho Oncology Inc.
Lyudmila Burdelya, PhD, Assistant Professor and Member of the Department of Cell Stress Biology, received a two-year, $418,000 R21 Exploratory/Developmental Research Grant Award from the NCI for her research combining radiation with TLR5-agonist-based immunotherapy to develop a new strategy for safely and effectively treating aggressive metastatic liver cancer.
Takemasa Tsuji, PhD, Assistant Professor of Oncology in the Center for Immunotherapy and Department of Immunology, received a $200,000 renewal grant from the Ovarian Cancer Research Alliance. This award extends funding for another two years to continue his work with unique subset of CD4+ T cells that his team previously discovered and characterized. In this study, Dr. Tsuji's team will investigate the therapeutic mechanism of a new cancer vaccine which induces the tumor-recognizing CD4+ T cells.
Nicoletta Sacchi, PhD, Professor of Oncology in the Department of Cancer Genetics and Genomics, received a one-year, $40,000 grant from Earlier.org – Friends for an Earlier Breast Cancer Test®, an organization working toward a biological test to reduce or prevent invasive surgery, minimize treatment and increase survival rates. This study aims to identify biomarkers that can detect early breast cancer with a liquid biopsy, such as a blood sample.
Roswell Park Comprehensive Cancer Center