Diabetes mellitus affects about 10% of the population, and predisposes the affected individual to a host of complications. Thus these patients need to follow a regulated lifestyle, including regular exercise, a low-sugar diet, regular and appropriate use of diabetes medication, self-testing for glucose levels and adjusting medication if used, and scheduled or necessary follow-up with a healthcare provider.
These steps are integral to keeping healthy. However, the difficulty of meeting these goals creates frustration, adding to a unique complication of diabetes called diabetes distress. A new study identifies the presence and sequelae of this condition.
What is diabetes distress?
Diabetes distress is one aspect of diabetes-associated ill-health. This term denotes the unique emotional cost of living with this disease. Though not a disease, it includes the frustration described above, fear of future complications and of coping with diabetes in the future, issues related to medical care (both cost-wise and quality-wise), and feelings of having to deal with the disease alone. Diabetes distress affects more than a fifth of people with diabetes, and reduces the chances of proper self-care, maintenance of healthy glucose levels, quality of life (QoL) and overall health. It may occur after a major change in the individual's life. Thus it should be evaluated as part of a diabetic individual's check-up.
Starting college is a stressful time for about 20 million students in the US. It also causes a lot of disruption in diabetes management, with peer pressure to pursue certain activities, lack of access to suitable food, less time or access to exercise, varying schedules and overall increase in workload demanding more time. Faculty and staff also face many of the same challenges. Surprisingly, this population has not been studied for diabetes distress.
Main types of diabetes mellitus. Either the pancreas not producing enough insulin or the cells of the body not responding properly to the insulin produced.


How was the study done?
The study looked at over 170 participants at a Midwestern university in the US, all adults with type 1 or type 2 diabetes. They completed a Type 1/ Type 2 Diabetes Distress Scale. The first measures 7 causes of distress, including powerlessness, negative social perceptions, physician distress, friend/family distress, hypoglycemia distress, management distress and eating distress, each scored on a 6-point scale. The second uses four factors, namely, emotional burden, physician-related distress, regimen-related distress and interpersonal distress, scoring on a scale of 1 to 6 points.
Sociodemographic and health factors were also noted. Patients were also assessed using the PHQ-9 form for depression. Other measures assessed included self-care inventory, coping styles (emotion- and self-controlled coping), confidence in diabetes self-care and diabetes QoL.
What does the study show?
Diabetes distress was high in about 27% of people with type 1 diabetes (T1DM), mostly related to powerlessness, difficulty in managing the disease, and managing their diet. For type 2 diabetes (T2DM), over 30% reported high distress, chiefly related to the diabetic regimen, emotional burden and interpersonal distress. About 20% of participants in both categories showed signs of major depressive disorder, which was associated with high distress overall as well as high distress in all the subscales used.
Researcher Elizabeth Beverly says, "The findings highlight just how difficult it is to live with diabetes. It requires daily management and despite a person's best efforts, diabetes remains a chronic, progressive disease that can decline over time."
Diabetes distress is also linked to poor glucose levels in terms of higher HbA1C in T1DM, and lower QoL in both T1DM and T2DM. This needs to be confirmed to design appropriate interventions for people at university who present with high diabetes distress.
This study agrees with earlier studies, though a recent meta-analysis showed higher distress scores in samples with a higher number of women and if depression was also present. Only the latter was confirmed in this study. The current study showed no difference by gender in the rate of diabetes distress.
Glucose control was also not linked to diabetes distress in T2DM, a surprising finding in view of earlier studies that concluded the presence of association. This could be because most of the participants with T2DM were employed by the university and were therefore healthy enough to work.
They also had university insurance coverage and could be in a better position to afford their self-care and medications. They also had a higher educational background, which could mean they understood the disease better. Finally, they were younger, on average, which could mean the disease was at a less symptomatic stage. On the other hand, people with very poor glucose control could be unable to work, which impacts their financial situation.
In patients with T1DM, high diabetes distress did show a link with glucose control overall, but not among the student population in isolation. The reliability of this finding is in doubt because only one in five students had attained glucose control.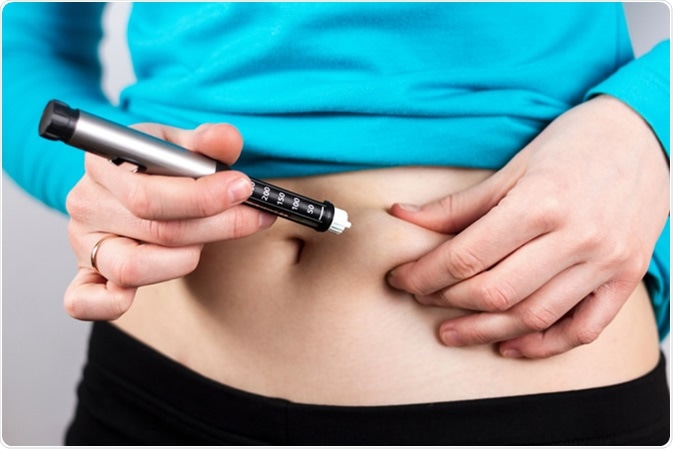 Diabetes patient shot by syringe with dose of insulin
What do we learn?
The study shows that diabetics with higher diabetes distress enjoy life less. This refers to both emotional and physical issues. Treatment of a diabetic person must therefore include emotional, physical and spiritual support. Diabetes distress must be looked for with each visit, using properly validated tests.
People with higher levels of distress must receive appropriately targeted diabetes education to deal with the specific areas causing concern. Behavioral interventions may be helpful for those who remain distressed and have a low QoL, poor glucose control and low self-care success. This type of care should include problem-solving training, cognitive-behavioral therapy, teaching skills like regulating the emotions, as well as other tailored therapies.
Universities have healthcare setups already available, with free access to the patients for extended periods. Kitchens are in place for diabetes education and proper dietary support. Social support, education, and emotional regulation skills are all easily shareable on campus. The American Disabilities Act gives accommodation to all diabetic students who self-identify themselves.
Ohio University already gives students facilities to store needles and refrigeration for insulin storage, as well as allowing flexible test schedules and leaves to account for the sudden complications of diabetes. Beverly comments, "The good news is universities are really well positioned to offer these resources. Universities that understand their students' needs can provide appropriate supports that allow for better health and academic outcomes."
Journal reference:
High prevalence of diabetes distress in a university population. Elizabeth A. Beverly,Rochelle G. Rennie, Emily H. Guseman, Alicia Rodgers, & Amber M. Healy. The Journal of the American Osteopathic Association, September 2019, Vol. 119, 556-568. doi:10.7556/jaoa.2019.099. https://jaoa.org/article.aspx?articleid=2749152